So many businesses & events are having to change up the way they conduct business – from outdoor dining, to social-distanced events, to car pickup ordering. As the weather warms up, make sure your outdoor space is ready for customers.
Commercial mosquito control treatments keeps the pest away and keeps customers happy. Nothing is worse than a customer telling their friends about the excellent food served at a restaurant but that the mosquitoes were horrendous on the patio. Or the wedding at that lovely outdoor venue, but the mosquitoes were so bad they left early.
And those complaints can end up on reviews and social media very quickly.
Commercial mosquito control also keeps your staff happy. Servers and event hosts can work without the bother of mosquitos biting and swarming.
Shawsheen Valley Mosquito & Tick services all of North Central & Northeast Massachusetts, including North Boston. We also offer all-natural treatment options.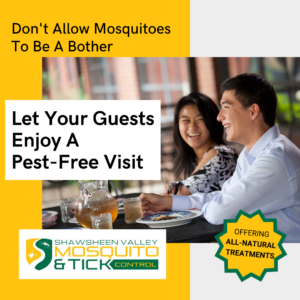 Commercial mosquito treatments are a good idea for:
Restaurants with patios and outdoor dining
Bars and pubs that have outdoor space and decks
Food stands
Hotels
Wedding venues
Outdoor event centers
Outdoor concert seating
Sports fields – little league all the way up to professional
Businesses near water
Take the worry out of this pesky problem of mosquitoes on your property. Get your quote today for commercial mosquito treatments and Shawsheen Valley Mosquito & Tick will take care of the rest.