So many businesses & events are having to change up the way they conduct business – from outdoor dining to car pickup ordering. As the weather warms up, make sure your outdoor space is ready for customers.
Commercial mosquito control treatments keep the pest away and keep customers happy. Nothing is worse than a customer telling their friends about the excellent food served at a restaurant but that the mosquitoes were horrendous on the patio. Or the wedding at that lovely outdoor venue, but the mosquitoes were so bad they left early.
And those complaints can end up on reviews and social media very quickly.
Commercial mosquito control also keeps your staff happy. Servers and event hosts can work without the bother of mosquitos biting and swarming.
Shawsheen Valley Mosquito & Tick services all of North Central & Northeast Massachusetts, including North Boston. We also offer all-natural treatment options.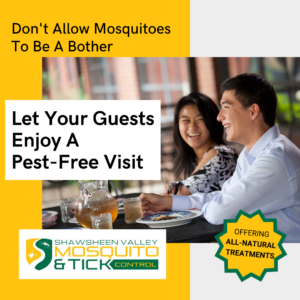 The Risks Mosquitos Pose To Businesses
Mosquitoes are not only annoying pests, but they can also pose a serious threat to businesses that operate outdoors. Mosquitoes are known carriers of diseases such as West Nile virus, Zika virus, and dengue fever, which can be transmitted to humans through mosquito bites. These diseases can have serious health consequences, leading to hospitalization and even death in some cases. This is why it's important for businesses to take steps to protect their employees and customers from mosquitoes by investing in professional mosquito control treatments.
While some businesses may be tempted to ignore the mosquito problem, doing so can have serious consequences. Not only can mosquitoes pose a health risk to employees and customers, but they can also damage a business's reputation. Customers are unlikely to return to a business that is infested with mosquitoes, and negative reviews can quickly spread on social media.
By investing in professional mosquito control treatments for your business, you can create a safer and more comfortable environment for your customers and employees. This can improve customer satisfaction and employee morale, and can also help to reduce the risk of mosquito-borne illnesses. Additionally, by controlling the mosquito population, you can help to protect your business from potential liability issues that could arise if someone were to become sick from a mosquito-borne illness on your property.
Commercial mosquito treatments are a good idea for:
Restaurants with patios and outdoor dining
Bars and pubs that have outdoor space and decks
Food stands
Hotels
Wedding venues
Outdoor event centers
Outdoor concert seating
Sports fields – little league all the way up to professional
Businesses near water
Take the worry out of this pesky problem of mosquitoes on your property. Get your quote today for commercial mosquito treatments and Shawsheen Valley Mosquito & Tick will take care of the rest.